Nigerians in the Region of Waterloo Celebrate Independence Day with Mayors and MPs
WATERLOO, October 5, 2018 – Over 150 Nigerians, friends, and community members gathered on Sunday, October 7, 2018 to celebrate Nigeria's 58th independence day in Waterloo, Ontario. The celebration, tagged INDEFEST – Experience our culture, was the 3rd annual celebration of the Nigerians in the Region of Waterloo (NIROW). The event was attended by City of Waterloo Mayor, Dave Jaworsky, City of Kitchener Mayor, Berry Vrbanovic, Members of Parliament, Hons. Bardish Chagger, Raj Saini, Marwan Tabbara, and the Deputy Chief Kevin Chalk
Giving the opening speech, NIROW President, Raheem Abioye said, "Nigerians in the Region of Waterloo (NIROW) was borne out of the need to showcase the rich culture and tradition of Nigeria to the country we now call home." A small group convened in Waterloo for the first time in 2015, and celebrated its first independence day on October 18, 2016. Since that time, many Nigerian newcomers to the region have sought out members of the group as a ready-made connection to the community and resources. The leadership team identified an opportunity to help new Nigerians in the area settle down quickly, and those already living in the area thrive.
While laying out plans for 2019, including volunteering within the community, training programs in collaboration with local partners, Ayo Owodunni, NIROW Vice-President, shared, "We want to see new Nigerians in the area plug in to all available resources, settle into a career and move up the ladder – whether corporate, political, or entrepreneurial." Speaking about the focus on career support, Owodunni said, "Enabling success is a key area of focus for NIROW and that is why it was important for us to have so many community leaders present. We are very pleased with the support our leaders have
shown us – we watched them wear our outfits, speak our language (well, attempt to), stand for our national anthem, eat our food, and meet our people. Their humility is inspiring."
Keynote speaker, Kithio Mwanzia, President and CEO, Guelph Chamber of Commerce, focused on the region's contribution to the Canadian economy, and highlighted the opportunity to be a part of the region's story. "With this region being one of the most powerful engines of the Canadian economy, it is vitally important to get engaged, network with the business community, as well as start and/or grow a business in this region. The leadership and volunteers of NIROW should be proud of the work they have done to host INDEFEST 2.0. Your commitment to building community has attracted business and community leaders from a region that includes Kitchener, Waterloo, Cambridge and Guelph," he said. Mwanzia concluded with an offer of support, "As a leading local Chamber of Commerce we look forward to helping you succeed in achieving these objectives."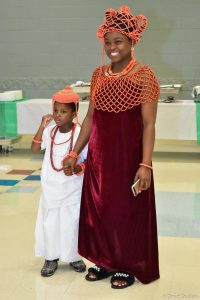 Event attendees were impressed with the turn out and are excited about the possibilities for the group. "This is a great event, the group did really well. I am looking forward to next year's events – maybe we can have a suya day (a Nigerian spicy grilled meat dish)," said Izu, a Senior Software Developer at a multi-national software company headquartered in Waterloo. Other attendees ranged from newcomers, to established professionals and business owners with multiple generations living in the region.
With plans to formally establish the organization and develop partnerships with local organizations, NIROW leadership is enthusiastic. "What began as a small gathering of fewer than 20 Nigerians has now expanded to over 200. We encourage all Nigerians, friends and community leaders to engage with us. I have no doubt that we will continue to grow and leave a positive, lasting legacy in Canada," said Fidelia Otokhina, the group's convener and Communications Director.